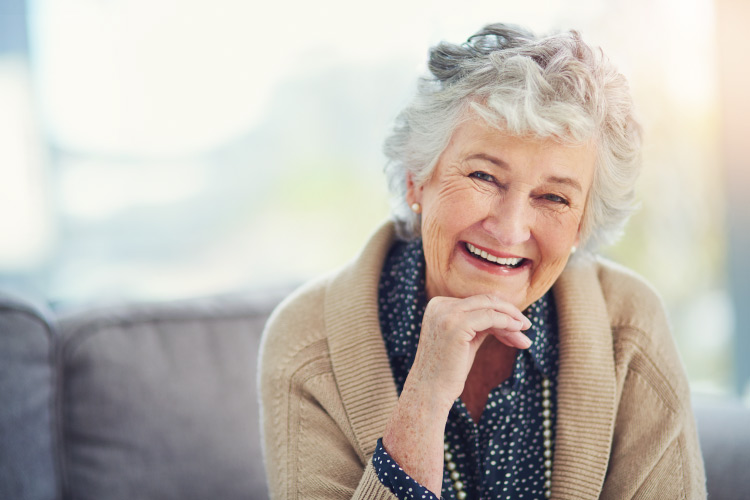 George Washington was down to one lone tooth when he became president in 1789. Contrary to some legends, he did not wear wooden teeth. Actually, his dentist was using the latest dental technology of the day when he created several sets of false teeth for him. Some of the materials used were lead, brass, metal, gold, ivory, human teeth, and cow teeth. Springs were supposed to keep the top and bottom plates in place, but they pushed his mouth open. Poor Washington had to remain constantly watchful to keep his mouth from opening far enough for his teeth to hop out. Lucky for us, we live in a time when dentures are made of strong, comfortable, realistic-looking materials. But what are dentures made of? That depends what type of dentures you need. So first off, let's discuss the two types of dentures.
Full Dentures
This is the type of denture you will use if you need to replace a full upper or lower set of teeth. These dentures are custom crafted to fit snugly along your gumline. They are held firmly in place by denture adhesives. Unlike George Washington, you don't have to worry about losing them if you smile too wide. At night you remove them for cleaning, and you can soak them in denture cleaner overnight. Full dentures are made of acrylic resin. This is a relatively new material that is much stronger than the types of plastics that dentures used to be made of. It is lighter in weight and makes it easier to achieve the correct occlusion. Acrylic can be matched to your gums, so it is realistic looking.
Partial Dentures
If some of your teeth are healthy, then a partial denture will be created to fill in the gaps. It is secured in place with clasps that fasten around your existing teeth. We always want to save as many of your natural teeth as possible. Partial dentures are usually made of flexible resin and metal. The parts made from metal are hidden behind your natural teeth so partial dentures are still very realistic looking. We also offer fixed dental bridges to fill in a gap created by several teeth. Unlike removable dentures, they can be permanently connected to dental implants.
Smile Restoration at Alder Trails Dental
All of our tooth restoration options are realistic and comfortable. George Washington would have loved them and certainly would have smiled more often. We offer flexible payment options and a discount for seniors and members of the armed forces. Contact our office in Cypress, TX so that our caring team of professionals can help you determine what is the best fit for your smile.