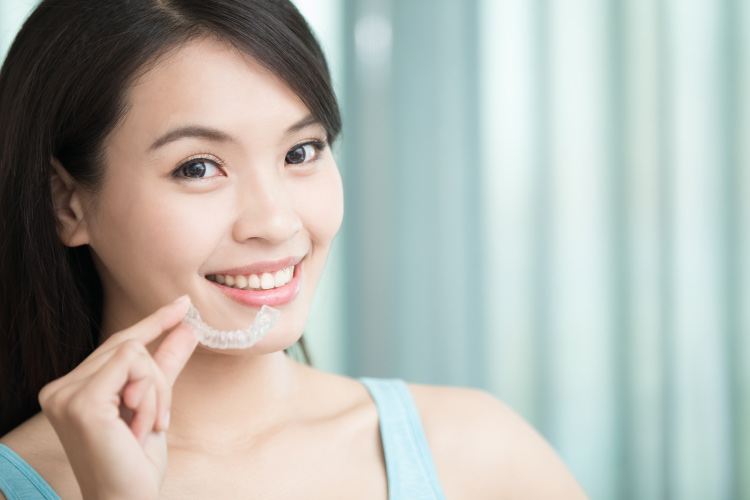 While many patients get braces as adolescents, orthodontics aren't just for kids! Anyone can benefit from having straighter teeth. Untreated misalignment can lead to problems with gum disease, cavities, tooth sensitivity, and jaw pain. Today, there are many choices for straightening teeth, including Invisalign ® clear aligner therapy. Read on to learn how Invisalign differs from traditional braces. We also explain how you can afford the cost of Invisalign at Alder Trails Dental with our variety of financial options.
Traditional Braces
Braces are a versatile orthodontic treatment that can correct mild, moderate, and severe misalignment, from crowding and gaps to bite issues. For the duration of your treatment, small brackets are temporarily bonded to your teeth with tiny elastics wrapped around the individual brackets. A metal wire, called the archwire, is threaded through these brackets to provide the necessary forces to move your teeth. Treatment time depends on a patient's degree of misalignment. While one patient may need to wear braces for only 12 months, another patient might need to wear braces for 24 months. Some patients even benefit from two phases of braces.
Invisalign Clear Aligner Therapy
If you have mild to moderate misalignment, you may be a good candidate for Invisalign. It involves a series of clear, BPA-free plastic trays that fit snugly on your teeth. You progress to a new set of trays every few weeks. Invisalign trays must be worn 20-22 hours a day but are removed during meals and when cleaning your teeth. The trays require special cleaning to prevent warping and discoloration. Treatment time varies but on average is between 12 and 18 months.
Typical Cost of Invisalign in Cypress, TX
Set up an Invisalign consultation at Alder Trails Dental to get a cost estimate. The price of treatment will depend on the severity of your misalignment and your unique dental needs. Our Cypress dental practice offers several payment options to make orthodontics affordable. For example, we accept FSAs, HSAs, many PPO dental insurance plans, and major credit cards. We also accept financing through CareCredit®, which allows you to pay for your healthcare expenses in manageable increments over time.
Schedule Your Consultation!
Ready to learn more about Invisalign? Contact Alder Trails Dental today to set up an appointment at our dental office in Cypress, TX.